Kolkata Test to be a day-night game between India and Bangladesh:
Bangladesh Cricket Board (BCB) has agreed to play the Kolkata Test of the upcoming series as a day-night Test upon BCCI's request. Kolkata's Eden Gardens will be the first-ever Indian venue to host a pink-ball day-night Test.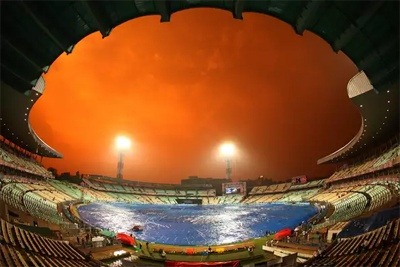 Sourav Ganguly, BCCI's new presided made a proposal to BCB for the second test of the upcoming two-match Test series to be a pink-ball one. The Bangladesh Cricket Board agreed to the proposal after getting confirmation from the players and the team management.
BCCI President, Sourav Ganguly about the Day-Night Test:
BCCI president Sourav Ganguly announced that the Bangladesh Cricket Board (BCB) had agreed to play a day-night test match. Ganguly said that this is the beginning of something special in Indian cricket and it is their priority to take Indian cricket forward. He emphasized the importance of Test cricket by saying that Test cricket is of utmost priority for him and the BCCI will leave no stone unturned to bring this format back to its feet.
?Eden Gardens to host India's first ever Day-Night Test match? #INDvBAN

??Full Details here ?? https://t.co/P9kPjWyTXF pic.twitter.com/AzD5BSrz1K

— BCCI (@BCCI) October 29, 2019
Ganguly said that the day-night Test cricket is a huge step for India cricket and they believe it will bring back the crowd into stadiums and will also attract young children towards the sport. He announced Eden Gardens as the venue to host the day-night Test match. The BCCI president thanked Bangladesh Cricket Board (BCB) president Nazmul Hassan and India captain Virat Kohli for accepting their request.
BCB President, Nazmul Hassan about the Day-Night Test:
Bangladesh Cricket Board (BCB) president Nazmul Hassan said that they are grateful to have someone like Sourav Ganguly as BCCI president who has also been an integral part of their journey. Nazmul Hassan said that he is pleased to have had a frank discussion with the players and the team management. He then revealed that he received a positive response about the day-night Test from the players and the management.
Bangladesh Coach, Russell Domingo about the Day-Night Test:
Bangladesh Coach Russell Domingo said that he as a coach and the players think it is a great opportunity as both teams have never played a pink-ball Test before, and it is a great occasion at Eden Gardens and will turn out to be a new experience for both teams. He added that even though the teams will not have a lot of time to prepare with the pink-ball but they are looking forward to the challenge.
Bangladesh Coach said that they accept India is as the No. 1 Test team in the world but since both teams are equally new to the pink-ball, things might work in Bangladesh's favor. He said the way the game is going, they need to try new things some times and they are very excited about it.
Russell Domingo said that he had talked with the players and revealed that there were some concerns from the players regarding only two days break between the two Tests.
Russel Domingo revealed that he had played a pink-ball Test in Adelaide, but they had a warm-up game and a few sessions with the pink-ball before the Test match. He was confident about his experience with the pink-ball and hoped to share the information that would prove advantageous for Bangladesh.
Bangladesh's tour of India will begin from November 3, while the day-night Test at Eden Gardens is scheduled for November 22. Tamim Iqbal will not be a part of the series as his wife is expecting their second child, while Bangladesh's T20I and Test Captain Shakib Al Hasan has been banned by the ICC from all formats of the game for two years.