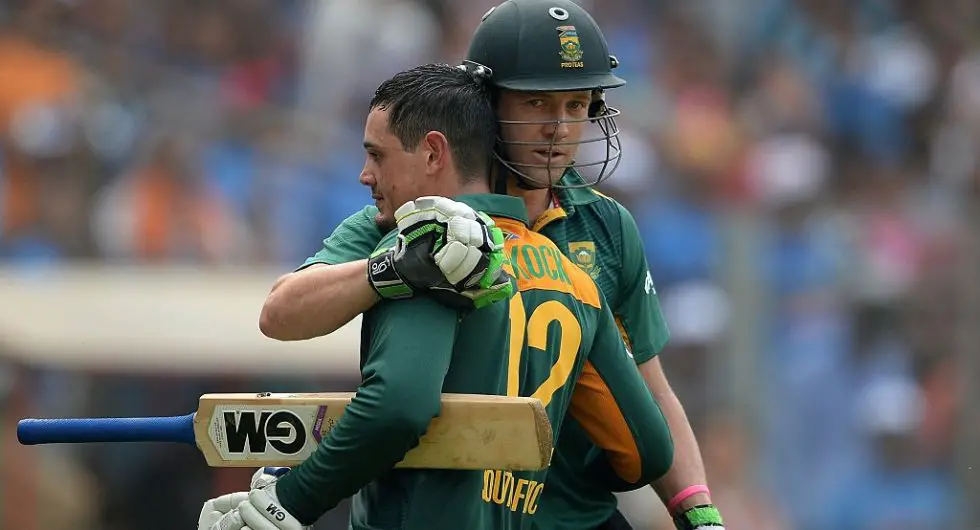 South Africa's wicket-keeping batsman, Quinton De Kock, has disclosed that his mate, AB De Villiers, was in line for the T20 World Cup 2020 but is now unsure of his international future.
Saying that he was 'definitely in line', De Kock revealed that he would have loved to see him playing along with all the other countries fanning him
"He was definitely in line. If fit, I would have loved to have AB de Villiers. I think any team would have loved to have AB de Villiers in their team," He said while speaking on the Cricket Connected show on Star Sports.
As the player retired from international cricket in 2018, he was to sign in to the World Cup in 2020. But as the mega-event has been shifted to 2021, and there has been no cricketing activity so far, the wicket-keeping batsman doubts De Villier's international future.
"While we were pushing for him, now we will have to see when the T20 World Cup is going to happen now," he added.
Upon being asked by De Villiers himself, he concluded the unsureness. Although he'd like to play some cricket out there.
"I don't know what to expect, to be honest. It has been quite a few months now and nothing really has been properly scheduled yet," he said.
"Obviously I would just like to get out there and play cricket. There are lots of talks, but in the meantime, I will stay fit in the gym and hit cricket balls. Hopefully, the virus moves on and we can get back to as normal as possible in no time," he added.
Also, see: