Cape Town Blitz defeats Jozi Stars in the first Match of MSL 2019:
Cape Town Blitz: 213/3
Jozi Stars: 198/5 (20/20 overs, target 214)
Cape Town Blitz won the match by 15 runs.
Cape Town Blitz vs Jozi Stars, The 1st match of the Mzansi Super League (MSL) 2019 season was an outstanding one as the defending champions Jozi Stars came so close to victory but then fell just a few runs short of attaining it. Cape Town Blitz had scored 213 runs at the cost of 3 wickets after 20 overs. Jozi Stars scored 198 runs for 5 wickets from 20 overs, losing the first match of MSL 2019 by 15 runs.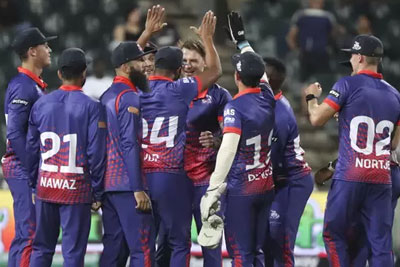 Cape Town Blitz vs Jozi Stars, Janneman Malan scores unbeaten 99:
Jozi Stars won the toss and elected to field first. Janneman Malan and Quinton de Kock came to bat first for Cape Town Blitz. Wicketkeeper-batsman and Captain Quinton de Kock lost his wicket after scoring 35 runs from 21 balls and sharing a 72 runs partnership with Janneman Malan in the 7th over of the match.
Moeen Ali came to bat and he added 25 from 17 balls before getting caught by Reeza Hendricks at deep mid-wicket on Daniel Christian's delivery. Liam Livingstone smacked 3 sixes and scored 21 runs from 10 balls before being bowled by Dane Paterson.
George Linde and Janneman Malan shared an undefeated 60 runs partnership where George Linde contributed 24 runs from 13 balls with 2 sixes and a four. Opener Janneman Malan remained not out till the end of the game as he amassed an unbeaten 99 runs from 59 deliveries. Janneman Malan smacked 11 fours and 4 sixes throughout his innings. He scored his fourth T20 fifty from 26 balls and missed his third T20 hundred by just 1 run.
?99 Heartbreaks?

Can you come up with some song titles or lyrics for @Janneman_Malan that tell the story of the heartbreak of falling 1 short of your ton?#MSLT20#StarsVBlitz pic.twitter.com/153Qj93LHG

— Mzansi Super League ? ?? ? (@MSL_T20) November 8, 2019
Cape Town Blitz finished their innings on 213 runs for 3 wickets. Simon Harmer claimed 1 wicket for 36 runs, Dane Paterson got 1 for 37, and Daniel Christian got 1 wicket for 28 runs.
Cape Town Blitz vs Jozi StarsJozi Stars' Reeza Hendricks 80 in vain:
The defending champions Jozi Stars required 214 runs from 20 overs to win the match. Chris Gayle and Reeza Hendricks came to bat first for their team. Chris Gayle contributed 17 runs from 13 balls with 4 fours. Captain Temba Bavuma and Reeza Hendricks shared a 76 runs partnership before Tamba Bavuma got caught behind on Moeen Ali's delivery after scoring 38 runs from 15 balls with 2 fours and 3 sixes.
Reeza Hendricks played a brilliant innings as he scored 80 runs from 53 deliveries. He struck 11 fours and a six before he got dismissed by Dale Steyn in the 18th over of the match. Reeza Hendricks reached his 23rd T20 fifty off 36 balls. His dismissal was the decisive moment of the game. Rassie ven der Dussen added 31 balls from 21 balls and Danial Christian added 13 from 12 balls.
Perfect Pairs:

?Steyn ➡️Rassie➡️ ?➡️Magala➡️?
?Steyn ➡️Reeza➡️ ?➡️Magala➡️?#MSLT20#StarsvBlitz pic.twitter.com/QGWZPX82kd

— Mzansi Super League ? ?? ? (@MSL_T20) November 8, 2019
Jozi Stars finished their innings on 198 for 5 wickets after 20 overs. Reeza Hendricks's exceptional batting performance brought his team close to victory but it was not enough as they fell 16 runs short of winning the match. Dale Steyn showed his class as he claimed 3 wickets for 25 balls in his 4 overs. Moeen Ali and Sisanda Magala claimed 1 wicket each for their team.
Cape Town Blitz's Janneman Malan was named the "Player of the Match" for his blistering batting performance where he scored an unbeaten 99 runs from 59 balls to lead his team in amassing a total of 213 runs in 20 overs.