Ashes 2019 : England still in the game:
England's 313/8 in the second innings now leads Australia by 382 runs at the end of day 3.
England cannot win the Ashes now but they still got a chance to level the series against Australia thanks to the efforts of Joe Denly who scored 94 runs off 206 balls and Ben Stokes who finished 67 runs for 115 balls. The Last time the Ashes ended up drawing was in 1972 around 46 years ago.
By the end of the day, England had lead Australia by 382 runs by scoring 313 runs for 8 wickets in the second innings. Joe Denly played a major role in bringing England into a match-winning position by his 94 runs off 206 balls by hitting 14 fours and 1 six. Joe Denly missed his maiden test century by just 6 runs as his wicket was taken by Peter Siddle. Ben Stokes also helped England with his 67 runs off 115 balls with the help of 5 fours and 2 sixes. England's score of 313 runs was mainly centred around the 127 runs partnership between Joe Denly and Ben Stokes but Jos Buttler's 47 off 63 with the help of 6 fours gave the finishing touch to bring the lead to Australia by 382 runs.
The Australian bowlers were not looking as good with the ball as they were in the first innings and they were not able to unleash a match-winning spell against England's batting lineup. Nathan Lyon was able to take 3 wickets by conceding 65 runs in 22 overs also Peter Siddle and Mitchel Marsh both took 2 wickets each and Pat Cummins took 1 wicket to bring England's score to 313/8.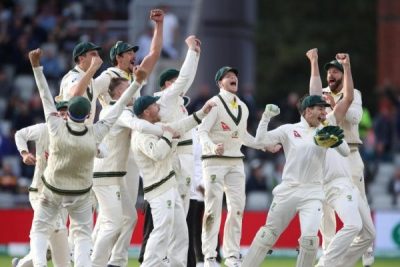 England on day 2:
After scoring 294 runs on the first day of the test, England had done a great job by bringing Australia's whole batting lineup down on just 225 runs on day 2 of the 5th test thanks to Jofra Archer taking 6 wickets in England's favour. Steven Smith tried to make things stable for his team with his 89 runs off 145 balls by hitting 9 fours and 1 six. Marnus Labuschagne also helped Steven Smith and Australia with his 48 runs off 84 balls with the help of 10 fours but the rest of Australia's batsmen were not able to do well against England's bowling attack.
Joe Denly today made sure that the efforts their bowlers made the previous day would not go to waste by playing a very sensible inning for his team. The opening stand of 53 runs between Rory Burns and Joe Denly provided with the sensible start they've been lacking lately as Joe Root took over after Rory Burns got dismissed by Lyon. At the end of the day 3, Australia had been looking quite exhausted with both their fielding and their bowling due to the towering lead and missed opportunities but they were able to take two good catches towards the end of the day where Steven Smith took a stunning catch at the second slip to dismiss Chris Woakes and then Marnus Labuschagne took a very good catch of Jos Buttler while running in from deep square.
England is determined to win:
England's position in the game is looking strong and they are looking confident to at least level the series against Australia by winning this test. England Scored 294 runs in the first innings with the help Jos Buttler (70 off 98) they brought down Australia's batting lineup on just 225 runs thanks to Jofra Archer (6/62) they are now in a match-winning position by scoring 313/8 runs with the lead to Australia by 382 runs. Jofra Archer and Jack Leach will be standing on the crease for England at the start of day 4.