Australia's limited-overs skipper Aaron Finch expects Marnus Labuschagne to perform well in ODIs as well. Marnus Labuschagne has played 14 Tests and has scored 1459 runs with an average of 63.43. He was also the highest Test run-scorer in the year 2019 as he scored 1104 runs in 11 matches at an average of 64.94.
Aaron Finch speaks about Marnus Labuschagne:
Despite the terrific Test record, the 25-year-old batting all-rounder has yet to make an ODI or T20I appearance. He also performed outstandingly for Queensland in the Marsh Cup, where he was awarded the Joint Player of the tournament with Usman Khuwaja.
Aaron Finch said about Marnus Labuschagne: "We know that he's not going to be overawed by the occasion. He's come back into Test cricket after missing out at the start of the Ashes and he's been unbelievable, so hopefully, he can continue that. The form that he showed in the one-day games was outstanding domestically.
"He's averaging up around 40 there batting at three, batting at four for Queensland on what's been traditionally a little bit tougher batting conditions over the last couple of years in domestic cricket.
"Playing on some slower wickets that spin quite a bit, to be able to come in and do that role really well for Queensland is obviously what's got him a place in the side, as well as his current form. I don't see why it wouldn't translate."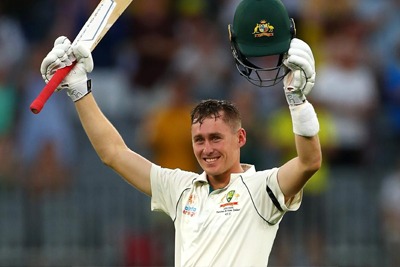 Labuschagne included in ODI squad for tour of India:
Marnus Labuschagne was included in the ODI squad over all-rounder Glenn Maxwell. Glenn Maxwell had made himself available for selection towards the end of 2019 after taking a six-week break because of mental health issues.
Australia's tour to India will consist of 3 ODIs, which will be played on January 14, 17, and 19.